back to case studies
New Website for Clear Architects
Luminescence was commissioned to create a new website for Clear Architects to attract prospects from the South East and that showcases the high-quality architecture they create.
The new website was designed, developed and delivered by Luminescence as part of a wider Communications Strategy to increase brand awareness and lead generation for the architecture practice. This formed part of our award-winning Professional Services Marketing Campaign at the Construction Marketing Awards 2017.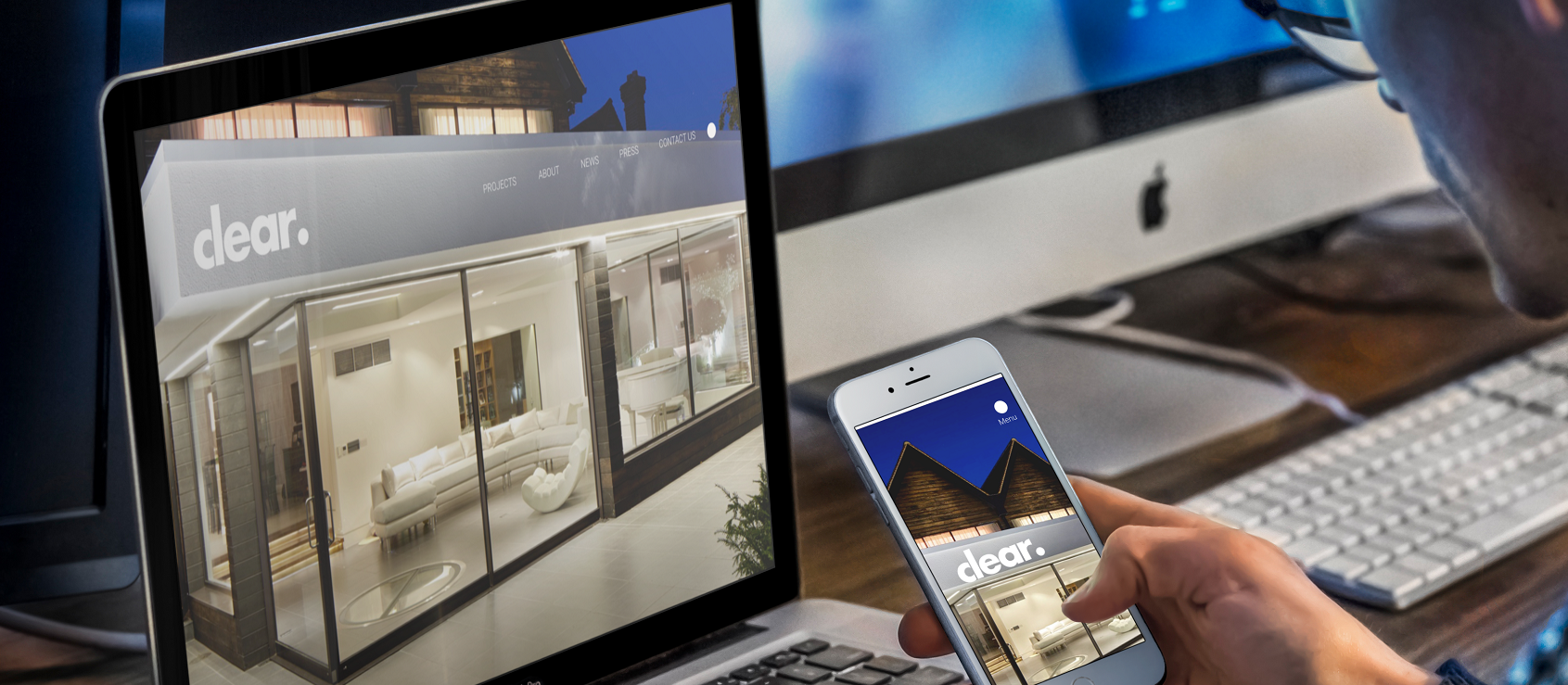 Project Management
Luminescence built a team of specialists around this website project to achieve the client's business and communications objectives. We know that a successful website – much like successful architecture – is one that combines superb design with smart and intuitive functionality.
Website Design
A content-first approach to the website architecture, providing optimum layout, design and functionality
The website design was influenced by the popularity of digital magazine-style social platforms specific to property and home improvement (such as Houzz and Homify), which appeal to the client's main target audiences
The magazine-style design of the website allowed for the surfacing of more professional images with greater context of the design features and architectural process
Designed to showcase high resolution images of architectural projects (balanced with optimum download speeds)
User-friendly, intuitive navigation
Ensures user-journey navigation for each target audience, as defined in our Communications Strategy for the client
6 x unique page layouts including adapting images/illustrations and copy to work within page frames, making necessary adaptations to the design following testing (such as usability), and the preparation of all files for development
Ensuring the website works effectively on all platforms including mobiles and tablets devices by implementing a responsive design
Subtle animation states that draw on existing brand elements give the new website an active vibrancy and reinforce the brand throughout
Website Development
Responsive design built into the wireframe
Implemented World Wide Web Consortium (W3C) guidelines for good, clean code
Used CSS (Cascading Style Sheets)
Bespoke, retina ready site resulting in the display of crisper high-resolution images
Search Engine Optimisation (SEO) structure built in
Search Engine Optimisation (SEO) friendly transition from the old website
301 redirects to prevent missing links from the previous website domain
Google Analytics built in for measurement and tracking (with monthly reporting and recommendations by Luminescence)
A content Management System (WordPress) that is easy for the client to edit, upload and maintain independently
Website Copy
Luminescence produced all of the content for the website, ensuring a uniform tone of voice and style (written by a Luminescence associate who is a respected architecture journalist)
Conducted SEO keyword research to target local leads and created engaging and relevant SEO-friendly content written for the firm's target audiences
Worked alongside the architect's photographer to ensure magazine-style imagery that reflected greater depth of consumer-friendly information about the projects and practice's process
Produced a website written Style Guide to ensure continued uniformity of web content after launch
New Website for Clear Architects
The unique magazine-style page layouts allowed the client to showcase a broader selection of images and information about each project, providing flexibility with different elements that can be tailored to each project.
Among these were options for highlighting before/after imagery, elevation drawings, specialist build materials, multi-media functionality, the lead architect's personal comments and a 'featured in' media ans awards logo section.
All of these features, and the flexibility they afford to 'tell the story' of how each project brief has been approached and delivered, is in stark contrast with many architect websites that typically rely on a carousel of static images.
An essential part of the website project was to generate leads, whether from interested prospects at research phase or ready to commission an architect. It was imperative that we include clear calls-to-action at the bottom of the main pages, as well as a newsletter sign up 'element'  that could be placed on any page to capture prospects' email addresses for future marketing purposes.
"Since launching the new website, we have had lots of positive feedback about it. I've even passed on one of my clients to Luminescence as he is interested in updating his website and was so impressed with ours!"
Melanie Clear
Having plugged in Google Analytics for measurement and monitoring, we were able to compare the performance of the old and new websites immediately.
The new website for Essex-based Clear Architects achieved its objective of attracting more clients embarking on design-led builds across South East:
London traffic increased by 78% and Chelmsford (Essex) traffic by a whopping 675%
Overall users increased by 35%, and vital browsing "time on page" increased by 70%
Direct traffic to new website increased by 20%, demonstrating an increase in brand awareness