back to case studies
Sponsored LinkedIn InMail Campaigns for Møller Institute
Luminescence created two successful Sponsored LinkedIn InMail campaigns for the Møller Institute, Churchill College, in the University of Cambridge.
The Møller Institute is an award-winning centre of excellence that bridges academia and business. Its Executive Education programmes are globally renowned.
The Sponsored LinkedIn InMail campaigns achieved exceptional open rates (above 100%, indicating re-opens). This is more than double the average open rate for Sponsored LinkedIn InMail campaigns.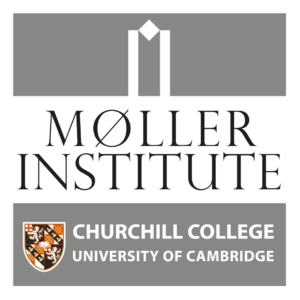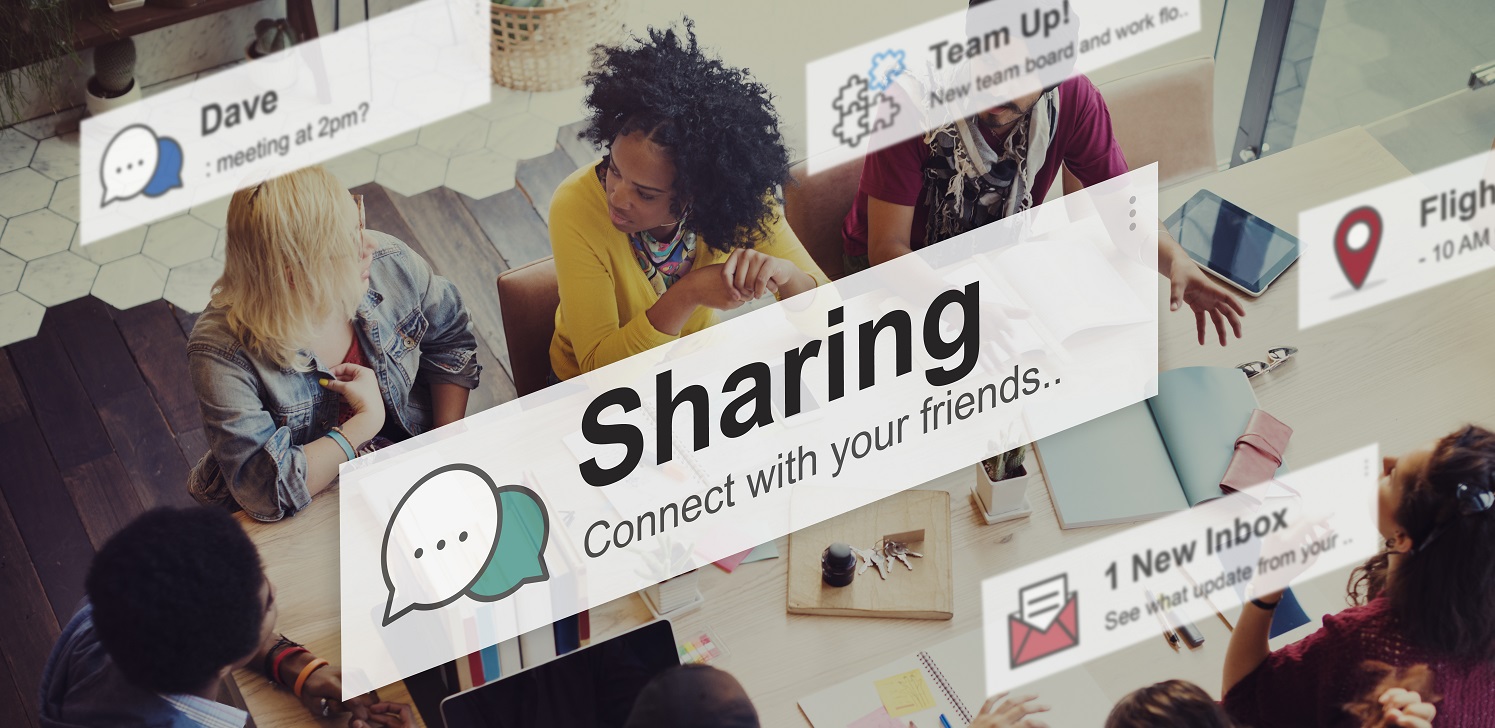 Using detailed targeting within LinkedIn, and drawing on our successes in previous Sponsored Linkedin InMail campaigns, Luminescence smashed its targets in attracting applicants to two Møller Institute coaching programmes.
The introductory Cambridge Business Coaching Programme targeted learning & development officers and senior managers interested in developing coaching capacities within their organisations.
The Cambridge Advanced Executive Coaching Programme targeted those who had been coaching in their organisation for several years and wished to take the leap to coaching C-suite and other senior executive-level people.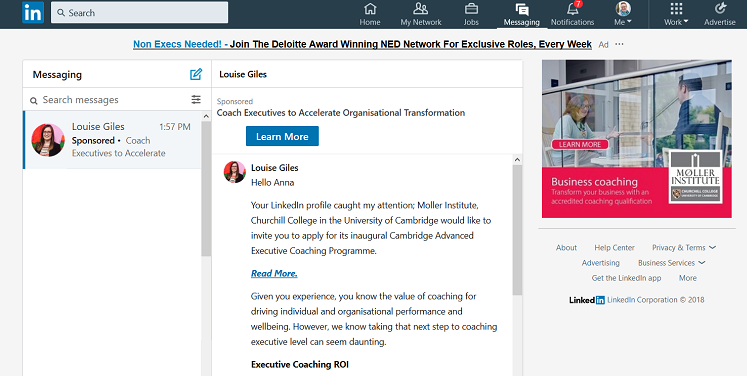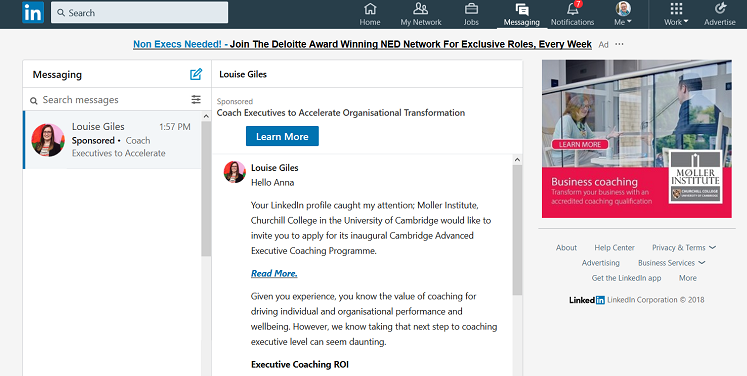 What Are Sponsored LinkedIn InMails?
Sponsored LinkedIn InMails are direct messages sent within the LinkedIn (leading professional) social media platform.
They appear the same as organic (non-advert) InMails in users' inboxes but with an additional 'sponsored' label.
They are only sent to people who fit the chosen criteria, and who are active on LinkedIn at that moment.
In this uncluttered environment, 1 in 2 recipients open a Sponsored LinkedIn InMail; much higher than the 37% average open rate for e-marketing*. (Marketers are usually happy targeting 25% open-rates.)
Sponsored LinkedIn InMails are different to other Pay-Per-Click (PPC) digital marketing; the cost is per InMail sent (not clicked upon).
Luminescence chose Sponsored LinkedIn InMails for these Møller Institute campaigns, as the platform has global reach, the target audience can be finely targeted on multiple criteria, and the InMail format suits a single call-to-action (CTA).
For these campaigns, the CTA was to download a brochure. Due to the campaign's constrained time-frame, Luminescence pump-primed the budget at the start to ensure maximum reach, and made data-informed iterations to the targeting criteria to maximise efficacy.
[* Stats source]
Conversion Copywriting
The success of Sponsored LinkedIn InMail campaigns is highly dependent on exceptional copywriting. Once opened, the messaging must immediately ooze credibility, relevance to the individual and compel them to act (on the CTA button).
Luminescence has experience of striking a tone of voice in its LinkedIn InMail messaging that resonates with the chosen audience. For these two campaigns, we succinctly highlighted statistics about the unmet demand and appetite for coaching from executives and within organisations.
We coupled this with independent data showing the link between organisations/individuals who receive coaching, with benefiting from greater stock market performance and other ROI factors.
We also applied journalistic best practice to sentence and paragraph structure, as well as some UX principles to encourage click-throughs on the CTA (conversions).