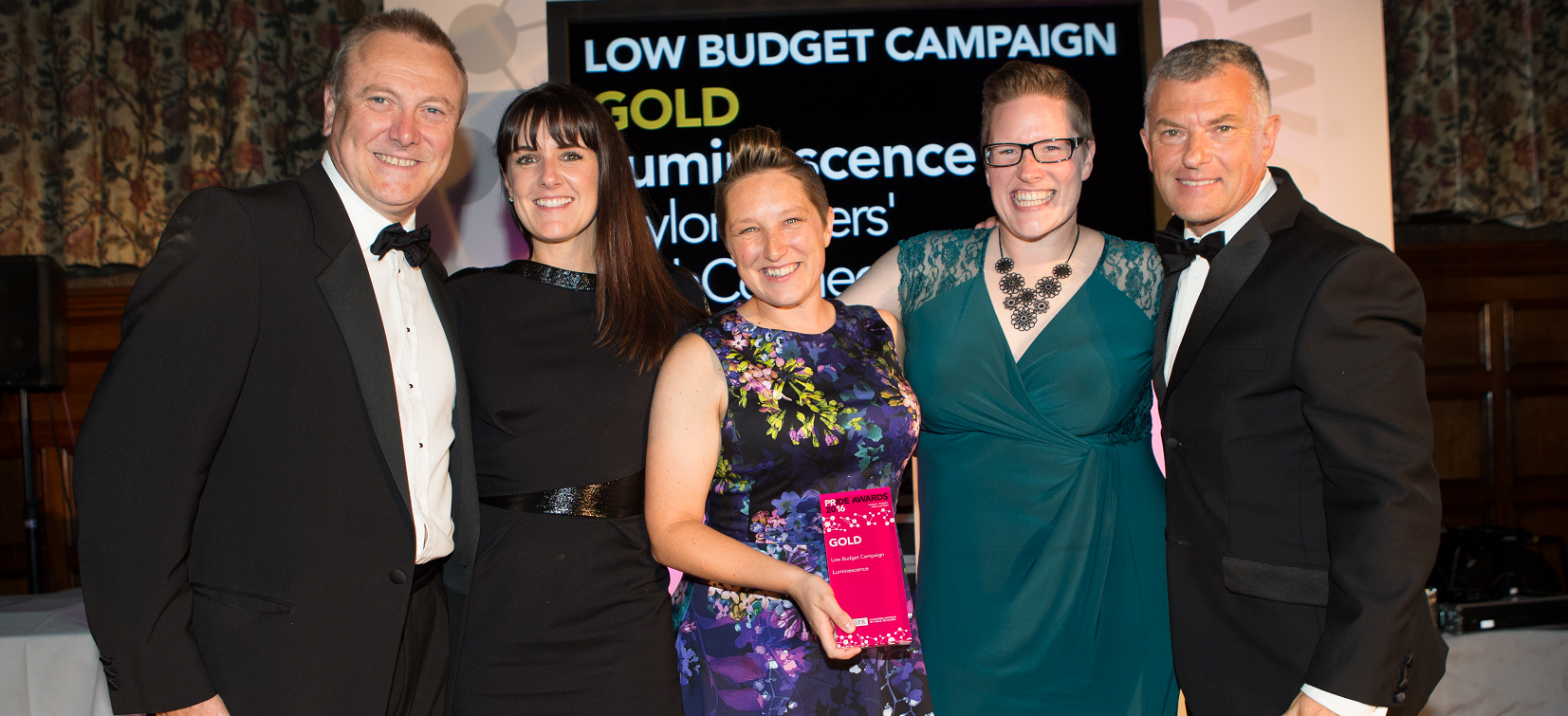 Luminescence has been awarded Gold at the CIPR PRide Awards 2016 for its TechConnection campaign for international law firm, Taylor Vinters.
On the same day Luminescence was launched (as part of a re-brand – read the story here), the team excitedly attended the CIPR PRide Awards dinner at Homerton College, Cambridge.
In a highly competitive category, Luminescence was awarded the top gong, winning Gold for Best Low Budget (<£10,000) Campaign.
Anna Lawlor, Head of Content & PR at Luminescence, said:

"We are thrilled to have launched our new brand and been recognised as an award-winning PR agency – all on the same day. It is both a celebration of Luminescence and recognition of the high quality PR services we have always provided.

This award is testament to the tenacious hard work that achieved for the Taylor Vinters' TechConnection campaign 600,000 coverage views, 324 social shares and 14 pieces of coverage in the client's target media including the BBC, City AM and Tech City News.

We are really chuffed and delighted to have been able to celebrate the win at the awards dinner with colleagues, journalists, clients and members of the Taylor Vinters' team past and present."
Over 1,000 entries were received from public relations teams, consultancies and individuals across the UK, from 305 companies, 680 campaigns, 125 teams and 40 individuals.
Just 300 were shortlisted by 68 judges in teams who are based outside the region of entry.
Luminescence was also a Finalist in the Best Corporate and Business Communications Campaign category, also for TechConnection.
The CIPR Judges said:

"This was a very well thought-out, researched and planned campaign, linking the south east of England with south-east Asia, in a focused approach that exceeded expectations. The innovative campaign engaged its target audience in a short timeframe, helping it to stand out in a tightly fought category against the close competition."
Share this page
Author
Luminescence
Tags: