back to landing
Luminescence magazine series about investing in the Cambridge Cluster launches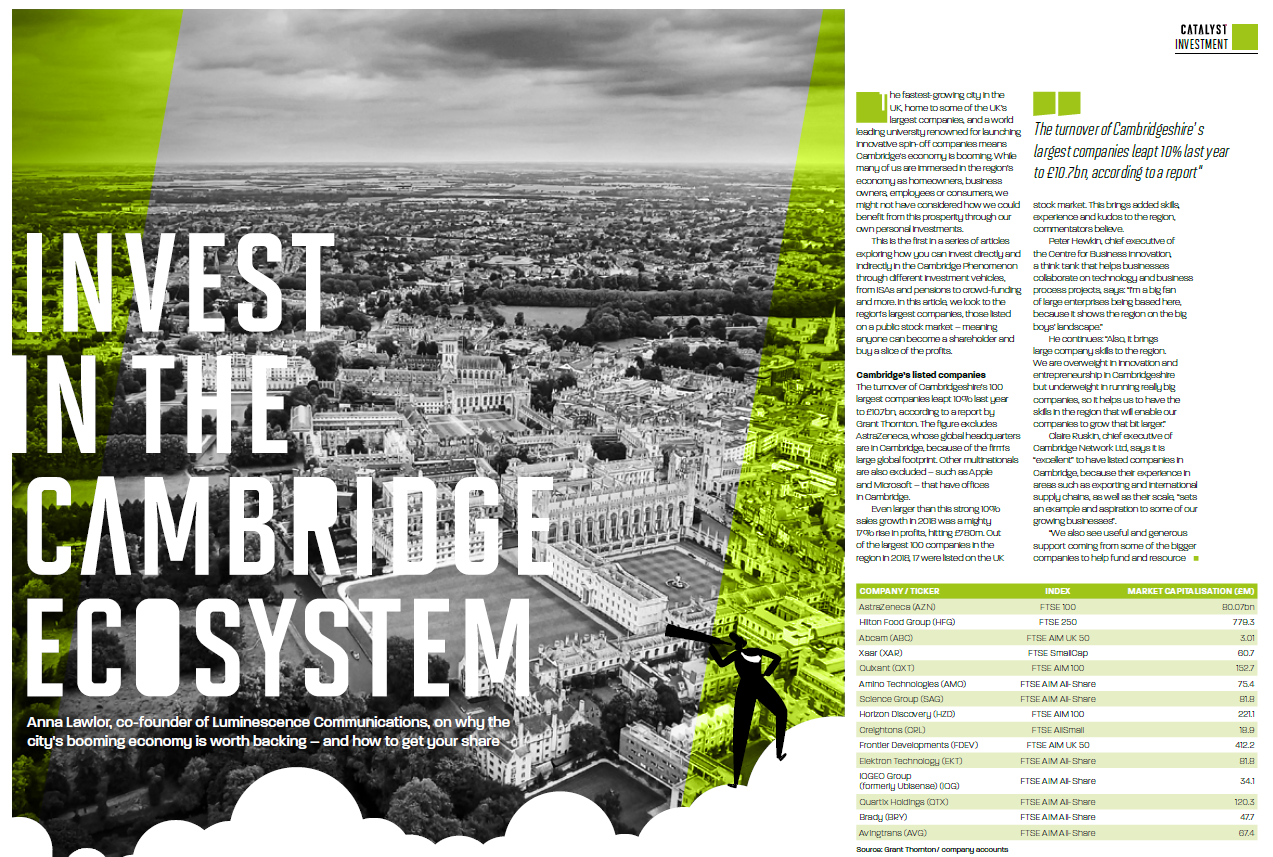 Luminescence has secured an editorial series about investing in the Cambridge Cluster for the city's new leading business publication, Cambridge Catalyst.
The communications agency is providing a comprehensive guide covering all the major facets of Cambridge's vibrant economy over a series of four articles for the monthly magazine that launched this summer (2019).
With experience at the highest level of financial journalism, including at the Financial Times Group, Luminescence's team is perfectly placed to delve into all levels of the city's business community and produce compelling editorial content that engages executives and entrepreneurs but also informs the wider community.
Investing in the Cambridge Cluster
Beyond simply analysing the Cambridge business ecosystem, the series goes further by informing readers as to how they can participate in the success of the city's established and burgeoning businesses and investment sectors, rather than just witnessing it from the sideline.
The series of articles covers:
Cambridgeshire's publicly listed companies
Crowdfunding in Cambridge
Major investment schemes (council- or university-related)
Private equity and venture capital in the city
The series of articles runs from July 2019 and is available to read on the Cambridge Catalyst website here.
Anna Lawlor, co-founder of Luminescence, says:

"Having chosen Cambridge to found our communications agency, Luminescence, we are only too aware of the magnetic pull the Cambridge Cluster has for entrepreneurs.

"Our new series of articles in Cambridge Catalyst magazine leverages our financial editorial experience as an agency and aims to provide an invaluable guide for the lay-person – from high-growth entrepreneur to comfortable Cambridge resident – of how to access, and potentially profit from, the huge economic growth of this extraordinary City.

"I am thrilled that we join Cambridge Catalyst's editorial team at this early juncture."
Contact us to discuss your Content Marketing or custom publishing needs.