We are thrilled to announce that Luminescence is the official PR Partner to the first LGBT+ Cambridge Pride festival, including the UK's first ever river Pride Parade.
The free and family-friendly event will celebrate the diversity of Cambridgeshire's large LGBT+ community and is open to all to enjoy from 12pm-10pm on Saturday 8 June 2019.
More information: www.CambridgePride.co.uk.
Cambridge's highly anticipated Pride event promises to be a day of music, cabaret, dance, spoken word, creative workshops and more. Taking place on Jesus Green in the centre of Cambridge and followed by after-parties at venues in the city, Cambridge Pride will also feature the UK's first Pride river parade, with a flotilla of colourful punts on historic River Cam.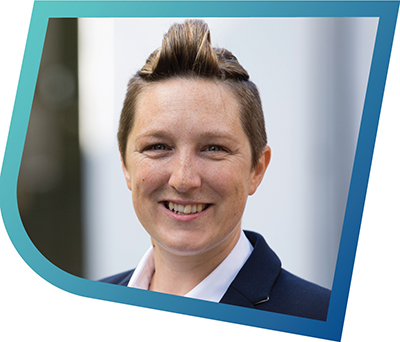 Anna Lawlor, co-founder of Luminescence, said:

"As members of the LGBT+ community ourselves, Anna and I leapt at the chance to be involved in the first ever Cambridge Pride.

The day is set to be a colourful celebration of diversity and inclusion, welcoming everyone to a free and family-friendly festival. When politics and economic inequality appear to most polarise communities – and historic Cambridge is no exception – we feel it is all the more important to support and celebrate events like Cambridge Pride, which bring us together.

We feel it is a privilege to lend our support to the incredible and dedicated team of volunteers working behind the scenes to make this happen. We look forward to seeing you on Jesus Green on Saturday 8 June."
The free event will be launched with a colourful punt flotilla on the River Cam, starting at Quayside at 11am and ending at Jesus Green Weir at 12pm. Each punt will be decorated using a colour of the Pride rainbow flag, representing different aspects of the city's LGBT+ community. The flotilla will carry members from local LGBT+ support groups, with each punt designed in partnership with local artists. The parade has been commissioned and funded by Cambridge City Council.
Luminescence is the official PR Partner to Cambridge Pride, co-hosting the VIP Lounge from 12.30-2pm. If you are interested in sponsoring Cambridge Pride 2020, please email Anna Lawlor directly to enquire about lounge access. Other partners are Microsoft, Greene King and Cambridge BID. Cambridge Pride 2019 is sponsored by ARM, Amazon, Samsung, Cambridge City Council, The Kite Trust and Real VNC.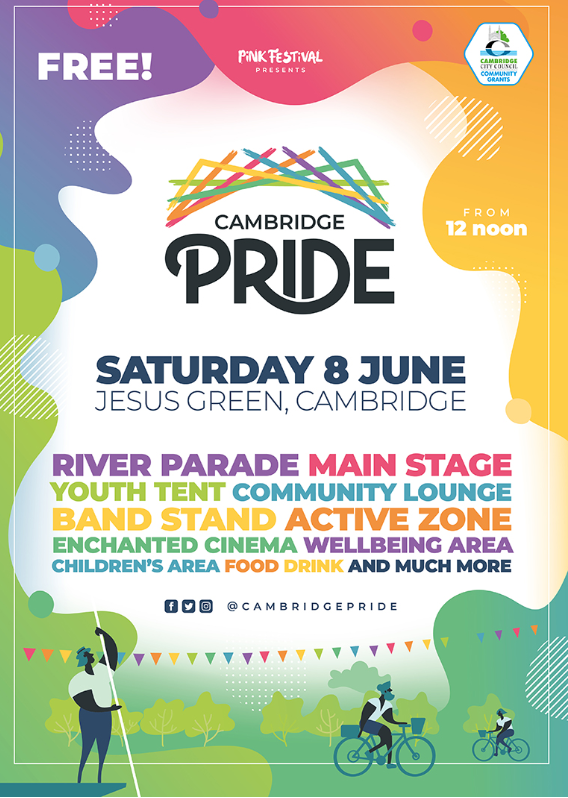 Cambridge Pride will see Jesus Green split into zones, with activities including:
A line-up of local performers including band Keltrix and drag act Felicity Flaps on the Main Stage
The Band Stand will host local DJs
The Youth Tent will provide a safe, alcohol-free space for under 25s with creative workshops including the Great British Queer Bake Off
The Pride Community Lounge offers performances, talks, comedy, spoken word and poetry
Satyam Yoga and Wellbeing Centre will lead yoga, meditation and mindfulness sessions
At dusk, Enchanted Cinema will provide an outdoor screening of international LGBT+ short films, programmed by 'Queers in Shorts'
Cambridge Pride is organised by The Pink Festival Group, a registered charity. According to the Office for National Statistics, Cambridge has the country's second-largest population of LGBT+ residents. From the county's population, 1.8 per cent identify as LGBT+, with Cambridge only topped by London at 3.1 per cent.
Lara Jaffey, Chair of The Pink Festival Group, said:

"Approximately 15,300 people identify as LGBT+ in Cambridgeshire, but the community is often fragmented due to rural isolation and relatively scarce services and amenities. Pride also provides an important platform for advocacy and advice.

Everyone is welcome on the day, so we encourage the public to come along and help break down barriers, fight discrimination and build social inclusion. Event volunteers have been working hard to ensure Pride visitors have an uplifting and inspiring day."
Join us at Cambridge Pride on Saturday June 8: www.CambridgePride.co.uk. 
UPDATE:
An estimated 5,000 people braved rain downpours to support the inaugural Cambridge Pride parade and festival. Spirits were not dampened and a carnival spirit descended on the bucolic Jesus Green, with festival-goers thronging the river banks to watch the UK's first LGBT+ river parade, Dykes on Bikes accompanying on the adjacent road.
Cambridge Pride 2019 in Numbers:
More than 150 entertainers performed during the day-long festivities.
Eight punts, each decorated to represent the colours of the LGBTQ+ rainbow flag, processed down historic River Cam.
Jesus Green hosted nine tents and 'zones', from the Main Stage and Community Lounge to Youth Tent and Wellbeing area, each hosting its own schedule of free entertainment.
Partners of Cambridge Pride 2019 were:
| | |
| --- | --- |
| Cambridge BID | Luminescence Communications |
| Microsoft | |
Sponsors of Cambridge Pride 2019 were:
| | |
| --- | --- |
| ARM | Jagex |
| Cambridge City Council | RealVNC |
| Glamazon (Amazon's LGBT network) | Samsung |
| The Kite Trust | University of Cambridge |
Friends of Cambridge Pride 2019, local organisations who supported the event, were:
| | |
| --- | --- |
| Bayer | Enchanted Cinema |
| Encore Estate Management | Johnson Matthey |
| Graduate Union | Marshall Ford |
| Greene King | GMB Union |
| Irwin Mitchell | Unison |
| Satyam Yoga & Wellbeing | Hilton |