back to case studies
Integrated Digital Marketing Campaign for Møller Institute
Luminescence created a highly successful integrated digital marketing campaign for a pioneering new senior leadership programme for the Møller Institute, Churchill College, in the University of Cambridge.
The Møller Institute, an award-winning centre of excellence that bridges academia and business, was inspired by two great leaders; Sir Winston Churchill and Danish shipping magnate Maersk McKinney Møller.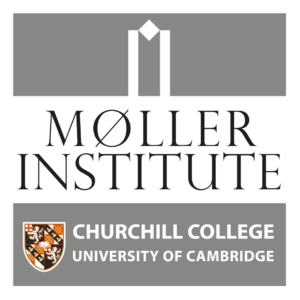 Luminescence developed a highly targeted integrated digital marketing campaign strategy to launch the Møller Institute's new senior leadership development programme: The Explorer Mindset. By the end of the 5 month campaign, we had generated 324 new senior leader contact details from the target audience and provided a Return On Investment to the client of 544%.
The Brief
The brief was to attract an international cohort of senior professionals with at least 8 years' P&L experience. They could be professionals in any industry sector, in a company of any size (from high-growth start-up to established Blue-Chip) and must be in a senior role: C-suite, founder, director, partner, head of dept or owner.
The target audience also needed to possess an 'explorer's mindset'; invigorated by the pace of technological disruption and eager to develop new skills to navigate this challenging environment.
The campaign objective was to achieve 200 new 'warm leads' from this target audience who were interested in attending the first Explorer Mindset residential programme in Cambridge, UK. The Møller Institute sales team were then tasked with converting 25 as the first participants on the programme.
Our Approach
Using the PESO model of Paid, Earned, Shared and Owned media channels, we developed a strategy to generate leads for the new residential programme. This meant the campaign was fully integrated, though sponsored LinkedIn InMails played a crucial role. LinkedIn's targeting capabilities made it an especially attractive medium to leverage for this integrated digital marketing campaign.
We narrowed the target audience by focusing on industry sectors facing the highest-degree of immediate digital disruption – such as TMT, Retail, Oil & Gas etc – and those based in geographical locations considered to be innovation ecosystem hotspots (Luminescence has previously written reports on this for The Economist Group; click here).
Overlaying this target audience matrix is the 'explorer mindset' traits. In addition to senior roles, we targeted those with a catalyst for being more likely to need or desire participation in the Møller Institute's new programme; those transitioning into a new role, currently on gardening leave, who recently sold their business or who received a funding round for their venture etc.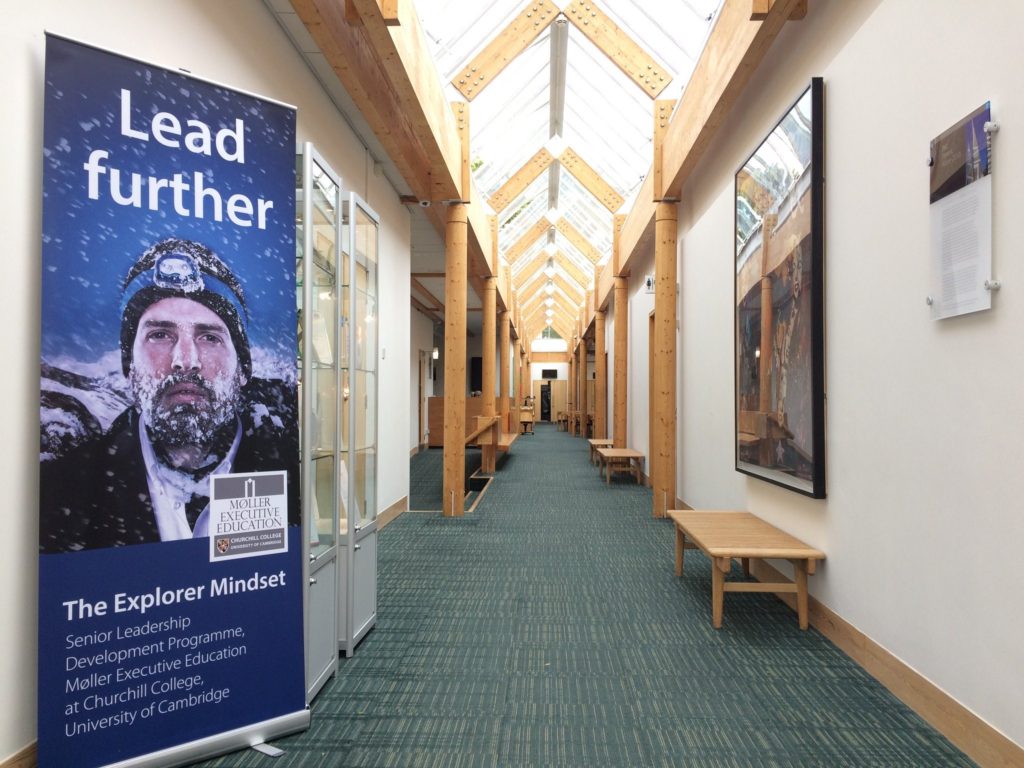 Creative
Luminescence was responsible for creating a distinct visual branding for the Explorer Mindset senior leadership development programme. With just the programme name, the creative needed to distinguish this programme from its peers and attract those 'with an explorer's mindset, who are attracted to the challenges presented by today's fast-paced disruption'.
Developing the explorer metaphor, the campaign utilised a diverse array of leadership 'heroes' leading 'further', 'deeper' and 'higher' in uncharted territory, mirroring that of the highly complex, competitive and unpredictable business environment that has emerged in the 21st Century.
  Lead Generation
The paid elements of the campaign – Google Ads and LinkedIn InMails – drove internationally selected senior leaders to a Luminescence-built campaign-specific landing page in order to download a brochure.
The brochure download was behind a 'data capture' window, providing the list or 'warm leads' required by the client.
Google AdWords Campaign
To boost awareness and interest in the new senior leadership programme, we created:
Display advertising targeted corporate, business, executive training websites, plus luxury adventure sport brands (excluding under 25s age)
Search keywords focused on senior leadership development-related
Digital creative subtle GIFs
Sponsored LinkedIn InMails / Paid Social
To help new leads make an informed decision and take action to download a brochure, we created:
Targeted Paid InMails by location, job function, seniority and company size based on audience research
Matched target audience (segmented geography, gender) with respective 'hero' marketing collateral (gender/ethnicity images, tailored copy; compelling subject: Centre of Excellence Seeks Female Leaders)
Tailored copy for each different ad with corresponding Calls-To-Action thoughout the InMail and clickable images
Tactical, agile budget approach responding as data collected
Organic LinkedIn InMails
Identified key Møller influencers wanting to market the programme to their personal contacts
Produced boilerplate copy including CTA, hyperlinks
Provided short tutorial video to support influencers; e.g. how to segment contacts, targeting by title and catalyst ('gardening leave')
POV 'immersive' video
Among the campaign collateral developed by Luminescence is an unusual first-person point-of-view promotional video, a style that breaks the traditional mould for executive education programmes and displays historic Cambridge in a new, modern light. The film concept and storyboard was developed by Luminescence co-founder Anna Marsden, based on her passion for POV head-cams to capture skiing and downhill biking. (Look out for her cameo in the video itself!)
The Explorer Mindset promotional video was shot with a Luminescence associate film crew, using an 'armour man' suit that allowed for a first-person perspective while keeping the camera steady. Other, smaller cameras were used to attach to the Møller Centre bicycle. The 3-minute video was shot in a single day. Treatment of the 'data point' motion graphics mirrors creative used in the programme brochure.
The finished video was hosted on YouTube where it has attracted 623 views (6x more than previous Møller videos). The video was posted on the Møller Institute Explorer Mindset webpage and its on-site video screens in public spaces, and was included in marketing emails.
Brochure & Copy-Writing / Copy-Editing
Developed key messaging to challenge target 'barriers,' 'tone of voice' to resonate, desktop research for supportive stats
FT/Economist style language used, added urgency through second-person narrative: "You know the world is changing…"
Desktop research for supportive stats
Text layout followed NN/g UX best practice
Used heatmap software to amend Møller webpages, optimising CTA placement etc
SEO keywords mirrored Google campaign
Produced, 22-page brochure, Flyers, Pop-Up banners, Print Ads for newspaper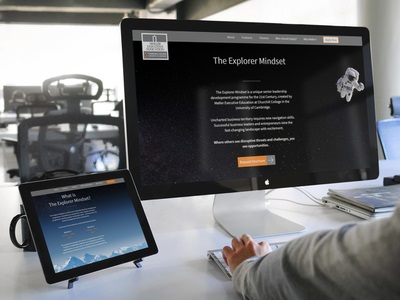 Campaign Landing Page
Created a responsive campaign-specific landing page for higher conversions which resulted in a conversion rate of 6% verses an industry average of 2% (we measured data capture for brochure download)
Designed and developed using 'hero' explorer creative; user starts in space with astronaut, scrolling down to mountains and ultimately beneath the sea
Brand consistency of new programme was essential across all on/offline assets
Tim Hill, Marketing Manager at Møller Institute said:

"The team from Luminescence have firmly embedded themselves into the Møller team and culture and have inspired us to confidently differentiate this leadership programme from that of our competitors.

"It has been a very exciting journey so far. We are delighted with the creative concepts and their execution and project management under very tight deadlines and modest budget. We have had very positive feedback."
"We had a phenomenal interest in the programme from our campaign and selected a fabulous cohort of senior leaders on our first programme from well-known organisations such as AstraZeneca; Sony PlayStation; Blackrock; Marshall Group; the RAF; NHS and XAAR.
The leaders threw themselves into the programme and their enthusiasm, passion and commitment was energising for fellow participants and my teaching team."
Cathy Butler, Director of Programmes, The Møller Institute
The campaign was a roaring success achieving its objectives and receiving national recognition for Marketing Campaign of the Year at the Education Resource Awards in 2018.
In addition, the 5-month campaign delivered:
8,158 views of campaign landing page; 5,462 unique users
324 brochure downloads (new senior leadership contact details)
18 people from the target audience booked onto the programme
51% conversion of "direct traffic" to campaign landing page
15% conversion of LinkedIn InMail traffic from LinkedIn to landing page + brochure download
6% conversion of Google AdWords traffic to landing page + brochure download
Overall 6% conversion rate for landing page (industry average is 2%)
623 YouTube views (6x more than previous Møller videos)
Following the success of the campaign in 2017, Luminescence has continued working with the Møller Institute on the Explorer Mindset programme for 2018/2019, and has received a wider remit for other areas of the organisation.