back to case studies
The Guardian Social Media Marketing Series Editor
The UK's news website of the year, The Guardian, was planning a short series to be hosted on their Media section on Social Media Marketing.
The editor of the Guardian's Media & Tech Network commissioned Luminescence to commission, edit, and write the entire 3-month series.

Luminescence co-founder Anna Lawlor adopted the role of Editorial Director, creating original copy, interviewing social media marketers and commissioning expert specialists and opinion shapers.
By commissioning journalists and experts in the media and technology field Luminescence produced the finest quality content in this area of specialism.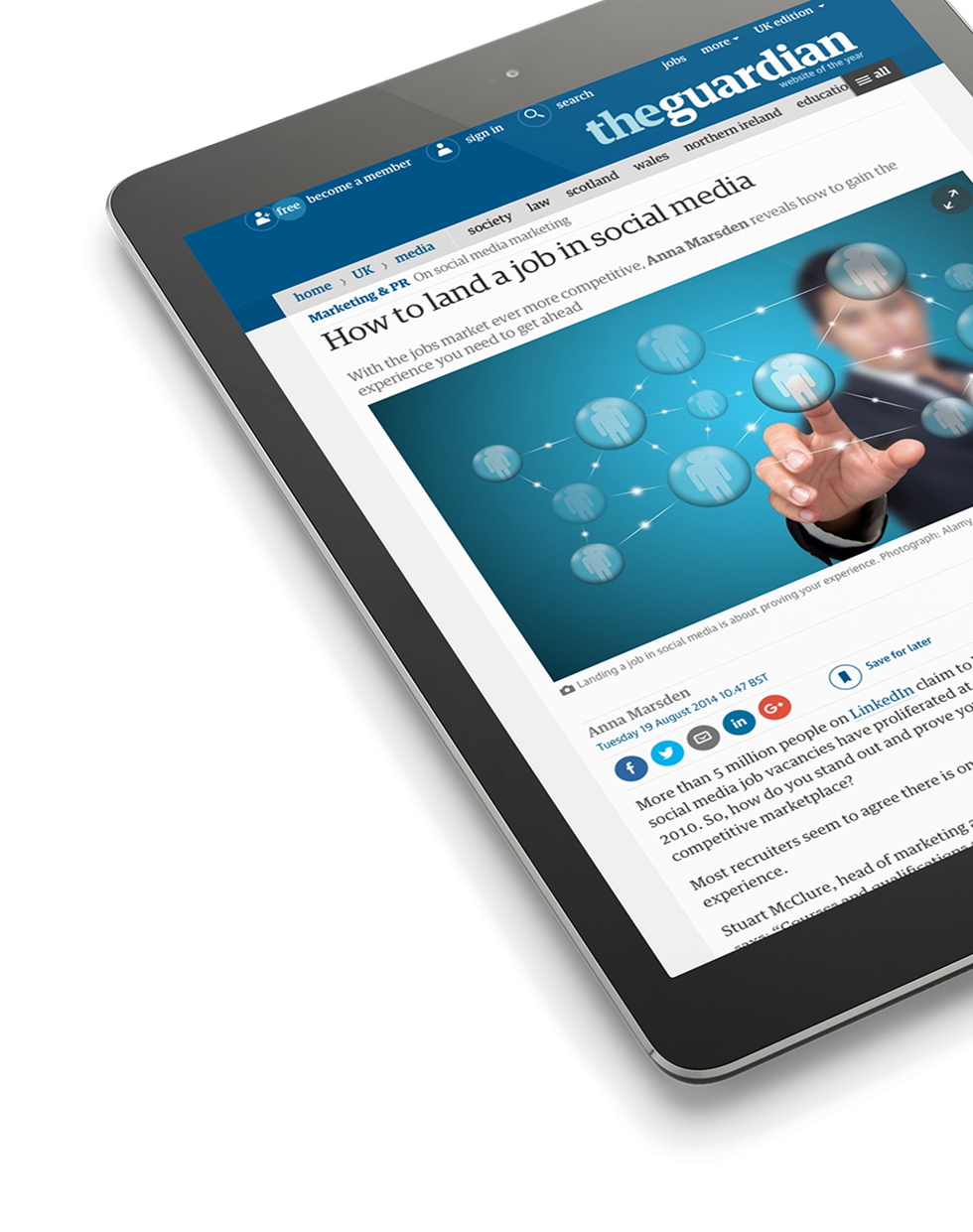 Spanning topics such as the Financial Conduct Authority (FCA's) social media guidelines, behind the scenes of Social Media Week, how to get a job in social media, social media compliance, automation, securing your social budget, and what makes content viral, and more.
Examples from The Guardian Social Media Marketing Series
How to Land a Job in Social Media written by Anna Marsden
Social Media Week – a sneak peek at its social strategy written by Anna Lawlor
FCA's social media guidelines – expect a damp squib
Pay to play: the end of free social media marketing?
Case study: how to truly integrate social with events
"Working with Luminescence was made easy as a consequence of their insightful and varied journalism, an innate awareness of the audience and a steadfast commitment to hitting every deadline time and again, even when things changed at short notice.
I would highly recommend commissioning Anna Lawlor and her team for similar projects."
Robin Hough, Editor of the Guardian's Media & Tech Network
Covering a broad range of topics in Marketing, PR, Media, Social, Digital and Events, Luminescence generated a total of 17,000 words, edited and produced to deadline every week during the 3 month project.
With an average monthly digital footfall of 267 Million People per month, The Guardian online enjoyed a domain authority of 97 (out of 100).
The Social Media Marketing Series was a great success.