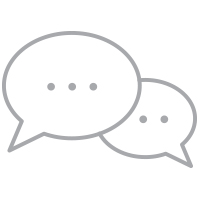 Without a communications strategy, siloes are prevalent in many businesses and in all sectors. The natural evolution of businesses leads different parts of the organisation to communicate with different audiences; some departments control social media messaging while another is responsible for client service communications or media relations.
Why Employ a Communications Strategy?
A unifying communications strategy can pull all of these disparate channels together and work with your internal team to improve workflow processes and increase the efficiency of your communication efforts.
Equally, a holistic communications strategy can be deployed on a campaign basis, used to communicate clear and relevant messaging to disparate target audiences for a new product/service launch, announcement of merger/acquisition activity or company restructuring, for example.
The Luminescence Process
Our "Think. Share. Grow." process we guide you through the strategic planning, execution, monitoring and evaluation of your communication activities, so that every activity, no matter how small, builds to support the organisation's long-term objectives and over-arching vision.
Each strategy is developed in collaboration with your team, tailored to address your business's specific challenges and tailored to effectively reach your specific stakeholders. Typically, this requires 2-3 consultation meetings. The typical strategy we produce is designed to empower your internal team to deliver the communication campaign over a 12-month period.
Inside the Communications Strategy
Each Communications Strategy document includes:
Overall Communication Objectives
Priorities for the financial year and organisational objectives
Research and planning, includes stakeholder mapping and communications audit
Key messaging
Resources
The team
Tactics and tools
Measurement and evaluation
Deliverables
Presentation and Training points delivered to internal (usually Marketing) team
Pdf of strategy document for internal teams to implement
Evaluation support
Get in touch to find out more about our communications strategies and how Luminescence can strengthen your organisation.