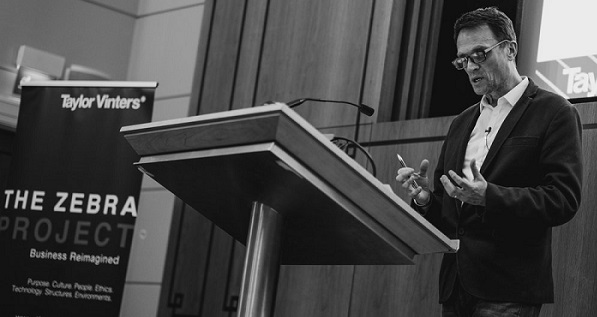 We are thrilled that the Chartered Institute of Marketing (CIM) has shortlisted Taylor Vinters' Zebra Project for Best (SME) Brand Building campaign. Since its launch in January 2018, Luminescence has provided content strategy and copyrighting support to Taylor Vinters' inspirational and hugely successful Zebra Project.
Through a series of thought leadership events, the Zebra Project brings together business leaders, creative thinkers, academics and visionaries to discuss the driving forces shaping the future world of work. Expert and peer-to-peer discussions and workshops explore the opportunities and challenges presented by the paradigm shifts affecting business philosophy, employment structures and technology in society.
Read more about The Zebra Project here.
Ed Turner, Managing Partner of Taylor Vinters, said:

"This is the first programme of its kind to be launched by a law firm in the UK, driven by the aim of being an open, collaborative and inclusive forum, and delivering actionable outputs. The success of the Zebra Project is not measured through business won but through driving the conversation forward, and the depth of our connections within this ecosystem of like-minded businesses."
The CIM Marketing Excellence Awards is held on 11 April 2018. Now in their tenth year, these awards continue to recognise that high standards of quality and integrity are vital to the success of marketing, as well as rewarding the innovation delivered by marketers who are at the cutting-edge of their profession. The category of Best (SME) Brand Building recognises campaigns that have excelled at developing brand awareness, affinity and/or loyalty amongst prospects or customers.
Anna Marsden, Co-founder of Luminescence, said:

"We enjoy a close working relationship with the Taylor Vinters' team and we wish them the very best of luck for the CIM Awards on 11 April. The Zebra Project has been tremendously well received and demonstrates true thought leadership by a firm that prides itself on bucking the expectations of lawyers to deliver something exceptional.

"The world of work is transforming before our eyes, so taking stock to ask the most pressing questions facing business of all sizes and sectors – and to suggest potential responses to those changes – has proven invaluable. Having founded Luminescence with tech-enabled and remote-working principles embedded, we too are finding ourselves adapting as the business scales, so the Zebra Project has been enlightening and informative even to those working within it."
Taylor Vinters is an international law firm, supporting the businesses that drive the innovation economy, and the entrepreneurs and private wealth that underpin them.Luminescence has worked with Taylor Vinters' marketing and senior management team since 2014.
[Photo: Matthew Taylor, CEO of the RSA and author of the independent Taylor Review into modern employment practices, opens The Zebra Project with a keynote speech.]
Click here to read a case study of our award-winning PR for Taylor Vinters.